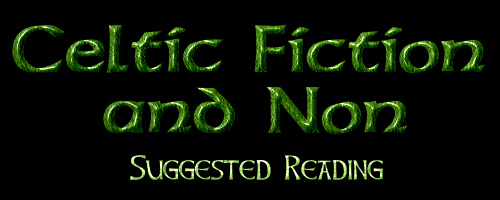 Most of the fiction selections mentioned here are re-tellings of classic sagas and legends of the Celts; though there are a few exceptions. The nonfiction selections here are not dull and dry history books, but rather more like works of ficiton in and of themselves. In other words, I promise they won't put you to sleep.

*Please visit Nancy Monaghan's Celtic fiction website for more Celtic related reading*




"Women in Celtic Myth" by Mora Caldecott, is a terrific volume of fresh, new retellings of classic myths involving powerful Celtic women. Such stoires include that of Rhiannon, Arianrod, Blodeuwedd, Macha and many others. Following the brief novellas is a bit of comentary by the author; which is insightful, and lovely in completing a terrific reading experience.




I highly recommend checking out this book if you are a fan of the classic sagas, in search of information regarding Celtic women, or just looking for a good book.




---




"Chronicles of the Celts: The Classic Sagas" by Iain Zaczek presents popular Celtic myths by country of origin. Such tales include the Tain Bo Cuailnge from Ireland, The Mabinogion from Wales, and Barzaz Breiz from Brittany. Along with the fascinating tales, there are beautiful color photos of Celtic art, scenery and other such archeological treasures.




This is a fascinating read, though it may not appeal to the novice Celtic reader or those not fond of folk tales. All in all a terrific publication.




---




"The Celtic Quest: An Anthology from Merlin to Van Morrison" by Jane Lahr, gives you a complete Celtic experience through Song, Sword, and Star. The breathtaking artwork acenting the crisp linguistic style of ancient and modern celtic poets and authors is truely inspiring.




Don't pass up this lovely coffee table style publication. This book is pure magic.




---




"Lion of Ireland" by Morgan Llewellyn is a fantastic novel, executed with great narrative precision. Ms. Llewellyn writes historical fiction with fantastic clarity. Celtic Fiction is at its very best with this book.




This is one of my favorite novels. "Lion of Ireland" chronicles the tale of the legendary Irish King, Brian Boru and the women who ruled his life. Definantly don't miss the sequel "Pride of Lions".


---


"Pride of Lions" by Morgan Llewellyn finishes the tale started in "Lion of Ireland", only this time the main character is Brian Boru's son, Donough. Many of the same characters from the aforementiond novel show up in this book with the same expression that made them so appealing in the first place.
I began reading this to put closure on Brian Boru's legend, yet I found this book to be well worth the time it took to read it. This, for certain, is a worthy sequel.


"The Celts" by T.G.E. Powell is a very informative text that explains in detail Celtic life, art, archaeology, and history. There are many black and white as well as color photos adorning this book, and I found the writing style to be very light yet scholarly.




If you are looking for a good source of historical Celtic information, this would definantly be the book for you. T.G.E. Powell was one of the foremost British archaeologist and this text proves to be his best work.




---




"Celtic Women: In Legend, Myth, and History" by Lyn Webster Wilde is a terrific book that explores the everyday life of a celtic women, while weaving in the legends of famous Celtic deities and women of power. The conclusion of this book chronicles the modern Celtic women in exaples such as Grace O'Malley, Flora Macdonald, and Constance Markievicz. The inventive and lovely layout of this book make it a wonderful experience.




This is my favorite book in my Celtic library; and it continues to aid me in my reasearch. The illustrations of Courtney Davis only make this book better than it already is.




---




"Celtic Women's Spirituality: Acessing the Cauldron of Life" by Edain McCoy, is a very good book for those who are looking to explore an alternative spiritual path or just wanting a competent reasource on Celtic Goddesses.




I rather like this text, though I know many in the Celtic Pagan community who chafe at Edain McCoy and her writing. Personally I take a book for what it is and try not to expect too much; are their better Celtic reasources out there? Yes. Is this book nonetheless enjoyable? Yes.




---




"The Celtic Art Source Book" by Courtney Davis features full color plates and beautiful clip art illustrating the various symbols of the Celts, such as spirals, knots, and crosses. The unique art style of this brilliant artist is amazing and the colors are vibrant and alive.




I just purchased this book not long ago, and I was fairly impressed with it. Though there isin't much text, the illustrations make it all worth while.




---




"Celtic Gods, Celtic Goddesses" by R.J. Stewart details the Celtic pantheon as well as totem animals and cyclical paths. There are a combination of line drawings and full color artwork present to decorate the text.
This book is fairly good, though I don't really recommend it to the new or novice reader. It tends to be a bit dull at points and R.J. Stewart's writing style is laborious. On the whole, it is still a good read.


---


"Sacred Symbols of the Celts" is a tiny 5 X 5 text that is packed with lovely archaeological photos that acentuate the presented writing. Though it is small, good things do tend to come in tiny packages and this book in no exception to the rule. Some topics covered include trees of life and death, mother Goddesses, and other symbolic elements of the Celtic realm.
I love this book and would do well to suggest it to those of all historical interests and persuits, not just those of a Celtic nature.


---


"The Encyclopaedia of Celtic Wisdom" by Caitlin and John Matthews uncovers new translations of seminal texts such as stories, poems and prose. A shamanic approach is taken with this book focusing on divination, prophecy, and shapeshifting.
In my opinion the first chapter of this book is the best, it deals with the sacred knowledge of the Earth and the language of Ogham. Caitlin an John Matthews are well know authors and experts in the field of Celtic Shamanism, this book is one of their better efforts.


---


"Women of the Celts" by Jean Markale is by far one of the best sources for information regarding the Celtic Women and thier lives and customs. Sections on love, marriage, and the many faces that women can wear. These include prophets, enchantresses, warriors, and wise women.
I keep this volume handy at all times, each time I read it, I learn something more.









All content and design on this page is © Jayme Rushing 2000